Content Guide
How to Get Daily First Deposit Bonus Maximum ₱1,000
Target: EsballPH HaloWin Tagalog Members
Event Time: Starting Now
Event Details: EsballPH HaloWin Tagalog Casino Daily First Deposit Bonus is here! Deposit now and get 150% of your first deposit amount, up to ₱1,000 first deposit bonus!
MAKE FIRST DEPOSIT FOR MORE BONUS !!
First Deposit
Rebate
Maximum Bonus
Wagers
₱100
150%
₱1,000
(First Deposit + Bonus)

x 25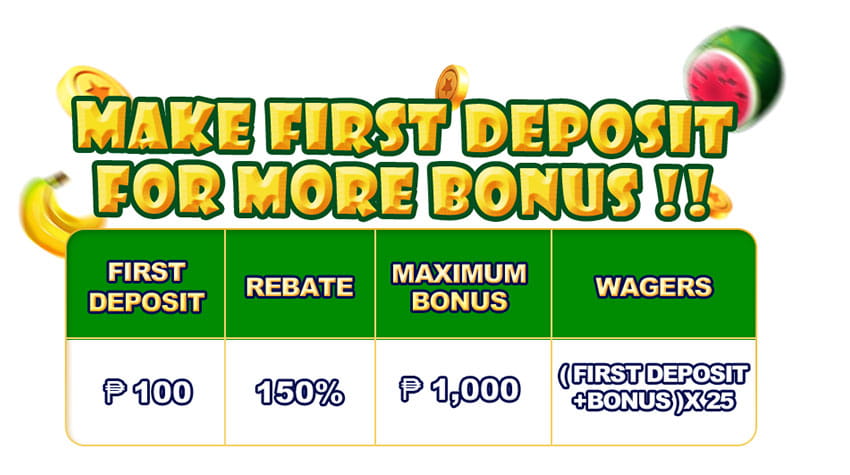 [First Deposit Bonus] and [Welcome Bonus] are mutually exclusive.
Only one promotion will be granted. If both promotions are applied simultaneously,
[First Deposit Bonus] will be prioritized, [Welcome Bonus] will not be distributed.
Daily First Deposit Bonus Rule of activity
Members MUST click "First Deposit" while making deposit, otherwise the deposit will not be detected for this promotion and bonus will not be issued. Bonus will be added to account automatically once promotion is successfully applied.
There will not be any rebate for betting recorded generated from using First Deposit.

Bonus can be used for all EsballPH HaloWin Tagalog games and 30X wagers must be meet in order to apply for withdrawal. (First Deposit Amount + Bonus)X30 wagers


Example: First Deposit ₱200. Bonus = (₱200X150%=₱300).
Wagers = ₱300 (Bonus) *30= 9,000
This promotion is only applicable ONCE for same member, devices, address, Touch ID, IP address.
Any illegal betting behavior or risk-free bets will be dismissed from service and disqualified from receiving the bonus.
EsballPH HaloWin Tagalog reserves the right to enforce the cancellation of the promotion or membership due to fraudulent behavior.
EsballPH HaloWin Tagalog reserves the right to enforce, correct, explain, and terminate this activity.
Now! EsballPH Halowin are once again launching the Register Free ₱100 Sign Up Bonus Sharing FB monthly FREE ₱38 Casino Promotion.
You can also click to enter the Online Casino Bonus & Promo introduction, which provides more diverse casino bonuses.
Hot Events