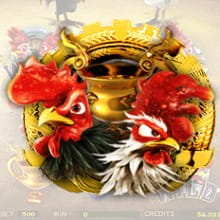 Mga Slot Games sa Rooster Fighting
Ang sabong ay isang blood sport kung saan ang dalawang tandang ay naglalaban sa isang sabungan. Ito ay isang sikat na lumang isport. Ang Rooster Fighting na may slot machine ay nagiging kawili-wiling slot game na may 9 na linya.
Rooster Fighting Game Introduction
Content Guide
Betting on online cockfights is just as interesting as witnessing a match in real life. Experience our HD cock scenes on your devices from the comfort of your home. The new and upgraded two-way pay lines calculation (left and right line connection)! Fight to be king of the cockpit! This slot game consists of 5 reels with 9 lines and includes the Bonus Symbol, Free Game, Wild Symbol and the Jackpot Symbol. The prize is calculated based on 2 or more identical symbols appearing from left to right according to betting points and winning symbols. Sign up for FREE with HaloWin at one of the best online betting sites in the Philippines!
Rooster Fighting Slot Games
Primary Symbol: Free Game
Secondary Symbols: Championship Trophy, Medal, Spray of water, Jin Bar, Cockfighting daggers, Money, Attack, Black cock, White cock.
Bonus Game: Cockfighting Game.
Rooster Fighting Paylines
4 na Jackpots: Mini/Minor/Major/Grand
The Bonus Symbol, Free Game, Scatter Symbol and the Jackpot Symbol.
The winning score is according to the highest odds of each line.
The winning score is calculated from the left or right of each betting line.
The total score of each game is calculated according to the bet value multiplied by the odds of each line.
The numbers of the 9 lines are as follows:
Rooster Fighting Odds
Bonus Symbol1
3 symbols appear on 5 reels → Free Game
※ In Free Game, when 3 Scatter Symbols appear on the same reel, 2 extra free spins can be obtained.
Wild Symbol

Ang Wild Symbol ay maaaring palitan ang kahit anong mga simbolo at kumpletuhin ang panalong kombinasyon sa iba pang mga simbolo, maliban lang sa Bonus Symbol at ang Jackpot Symbol.
Ang mga sumusunod na simbolo ay maaaring mapalitan:

※ Ang Wild symbol ay lalabas lamang sa pangalawa, pangatlo at pang-apat na reel.

Jackpot Symbol

grand
Magkakasunod sunod na 2 o higit pang mga Jackpot Symbols ang lalabas mula kaliwa hanggang kanan sa payline → manalo ng Jackpot.

Major

Minor

Mini
Patterns
Odds
Patterns
Odds
5 X 1000
4 X 300
3 X 50
5 X 800
4 X 250
3 X 40
5 X 300
4 X 100
3 X 25
5 X 200
4 X 50
3 X 20
5 X 150
4 X 40
3 X 15
5 X 40
4 X 20
3 X 8
5 X 40
4 X 20
3 X 8
Mga Slot Games sa Rooster Fighting Screen
Cockfighting Game Main Game Screen

Cockfighting Slot Game Screen

※ Kapag nagsimula ang linya ng Money symbol line mula kaliwa, ang mga naipong puntos sa kaliwa ay lalaki.
※ Kapag nagsimula ang linya ng Money symbol line mula kanan, ang mga naipong puntos sa kanan ay lalaki.
Cockfighting Slot Game Screen

※ Kapag nagsimula ang linya ng Attack symbol mula kaliwa, ang kaliwang gamecock ay aatakihin ang kanang gamecock.
※ Kapag nagsimula ang linya ng Attack symbol mula kanan, ang kanang gamecock ay aatakihin ang kaliwang gamecock.
※ Ang pagkakasunod sunod ng mga atake: 1. Bilang ng mga simbolo, 2. Bilang ng mga linya (1 ang priority, 9 ang panghuli).
※ Kapag lumabas ang 5 Attack symbols sa parahong reel, ang round ay idedeklara bilang isang tie.
Cockfighting Slot Game Screen

※ When the left gamecock wins, you can get the accumulated points on the left x multiple.
※ When the right gamecock wins, you can get the accumulated points on the right x multiple.
※ There are 4 types of multiples: 【x1】、【x2】、【x3】、【x5】
※ Once the gamecock wins, the multiple will increase and can be up to【x5】until the gamecock is knocked down.
※ Once the gamecock is knocked down, the multiple will return to【x1 】.
※ When cashing out, disconnecting or leaving the game, accumulated points, position of gamecocks and the multiple will not be retained.
Cockfighting Slot Games Free Game Screen